two Gang square outlet boxes house receptacles 2 switches weatherproof junction PVC splice box outdoor device mounting switch
| | |
| --- | --- |
| Einheitspreis: | 0.68~0.95 USD |
| Minimum der Bestellmenge: | 1 Piece/Pieces |
| Lieferzeit: | 1 Tage |

| | |
| --- | --- |
| Verpakung: | carton with PE bag for portable handheld enclosure |
| Transport: | Express,Ocean,Land,Air |
| Versorgungsmaterial-Fähigkeit: | 10000 Unit/Units per Month |
| Hafen: | Ningbo port |
Produktbeschreibung
Hubbell-Bell PDB77550GY Two-Gang Weatherproof Box Seven 1/2 in. or 3/4 in. Threaded Outlets, 2 in, Gray
About this item
Durable high-impact pvc construction
Mounting hardware and installation instructions included
Seven 1/2In. Or 3/4In. Outlets
Includes (6) 3/4In. Closure plugs and (7) reducer bushings
2-Gang Weatherproof Box, Seven 1/2 or 3/4 in. Threaded Outlets, Gray
Durable high impact polycarbonate construction

Can be used with 1/2 in. or 3/4 in. conduit

Includes (6) 3/4 in. closure plugs and (2) reducer bushings

2 in. deep

Includes gasket and mounting hardware

Multi-lingual instructions in each package
Product description
Style:2-Gang  |  Color:Gray
Weatherproof nonmetallic two Gang square outlet boxes house receptacles, switches and GFCI s. Boxes may be used as a weatherproof junction box and accept 1/2 and 3/4 conduit. The boxes are designed for use in branch circuit wiring in wet, damp, or dry locations.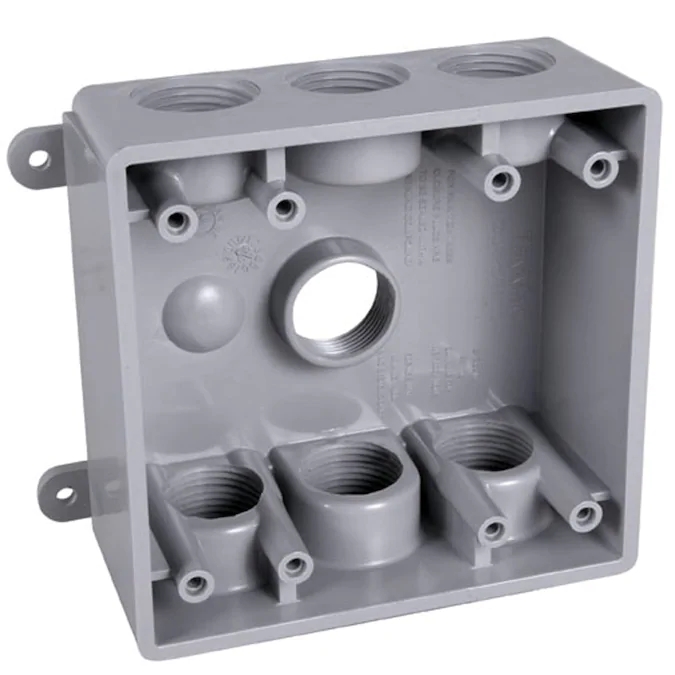 PDB77550GY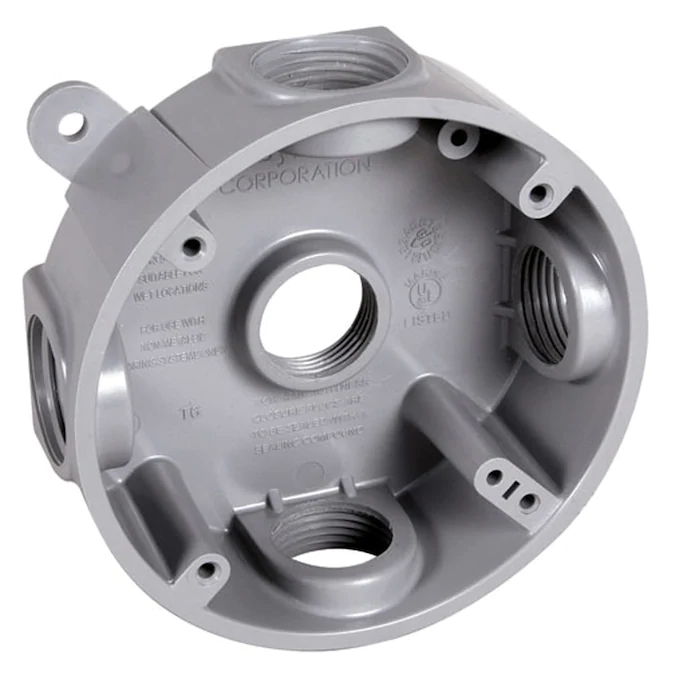 PRB57550GY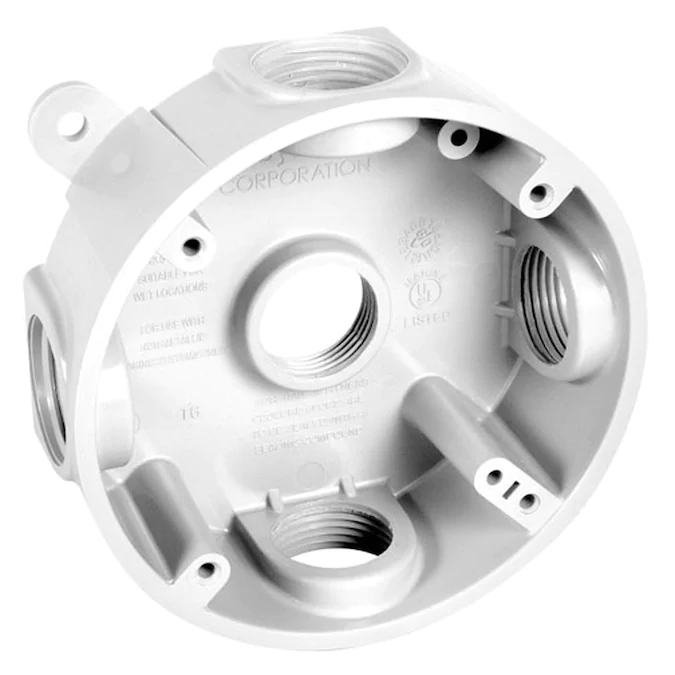 PRB57550WH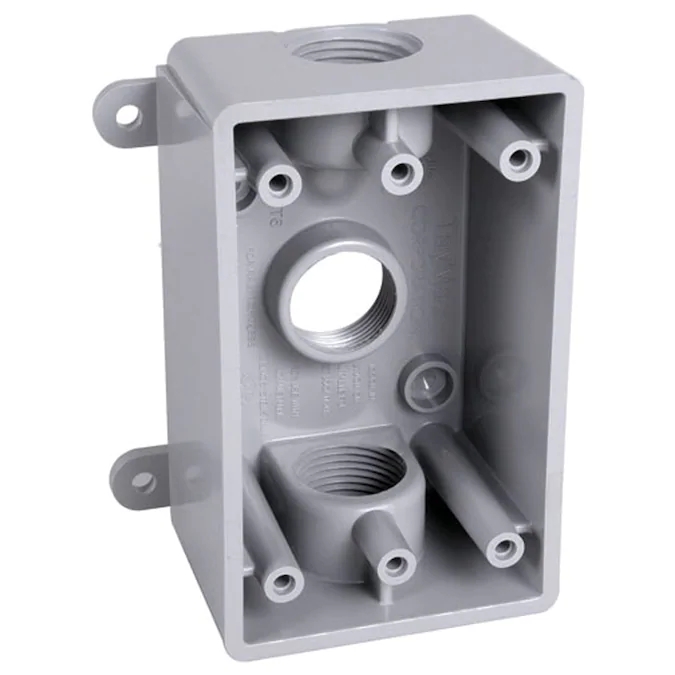 PSB37550GY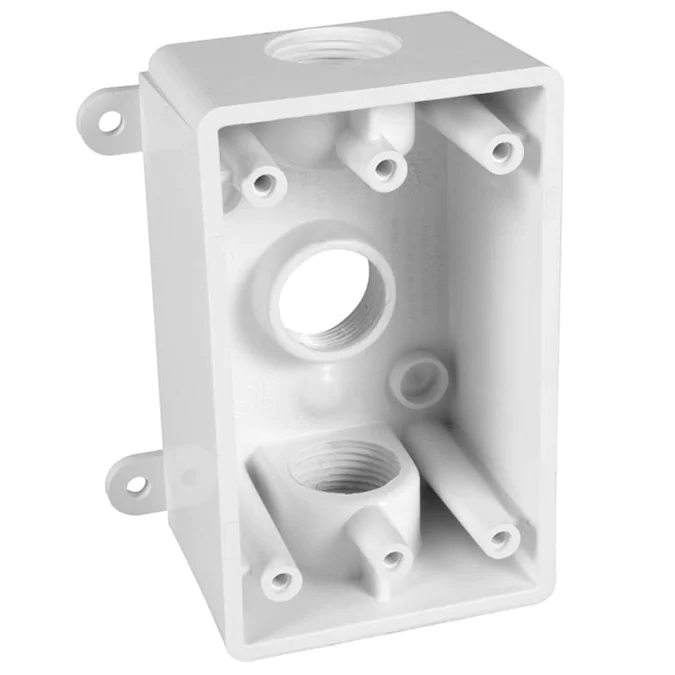 PSB37550WH
Hubbell-Bell PDB77550GY Two-Gang Weatherproof Box Seven 1/2 in. or 3/4 in. Threaded Outlets, 2 in, Gray
2-Gang, Weatherproof Box, Non-Metallic, Type 2FDC, (7) 3/4" Threaded Outlets (3 in each end, 1 in back). Cubic Inches: 32". Color: Gray. Includes: Mounting Feet, (6) 3/4" Closure Plugs, (7) 3/4" to 1/2" Reducing Bushings. Color: Gray.
Hubbell-TayMac PDB77550GY Weatherproof Outlet Box, 2-Gang, Depth: 2", (7) 1/2" or 3/4" Hubs. Also known as: 092326130325, weatherproof, bell, box, enclosure, outdoor, wet location, damp location, junction, jbox, splice, outlet, device, mounting, switch, receptacle, hubs, port, inlets, conduit, 2g, 2 gang, two gang, double gang, 12 in, 12, 34 in, 34 threaded, nm, nonmetallic, pvc, plastic, 7, seven, silver, gray, 34 threaded, TYMPDB77550GY, Hubbell-TayMac, PDB77550GY, Weatherproof Non-Metallic Boxes - 2 Gang, Non-Metallic Boxes & Covers, Boxes - Weatherproof, Boxes, Enclosures, Carlon, Bell box 2 gang Equivalent to: Hubbell-TayMacPDB77550GY 092326130325
Customer questions & answers
1)  Question:Does it come with plugs for the access holes? Thanks, Tim
Answer:Yes. Threaded plugs and 3/4"-to-1/2" adapters are included for all unused holes.
By Axel Schonfeld on July 20, 2016
2)  Question:Actual dimensions of box - i.e. outside diameter?
Answer:The dimensions are 1.1 deep x 4.2 x 4.4 inches. So the maximum width is 4.4 inches.
By Willie B. Underwood on December 19, 2015
3)  Question:would this support an exterior ceiling fan?
Answer:I would not use a plastic mount for a weight bearing application like a celling fan
By JP on April 9, 2019
4)  Question:Will this work with the ring floodlight wired non cam
Answer:That's what I bought it for 2 weeks ago and it perfectly works for the my ring floodlight wired,my only problem is there is no ground wire where I installed ring lights where my old front door light was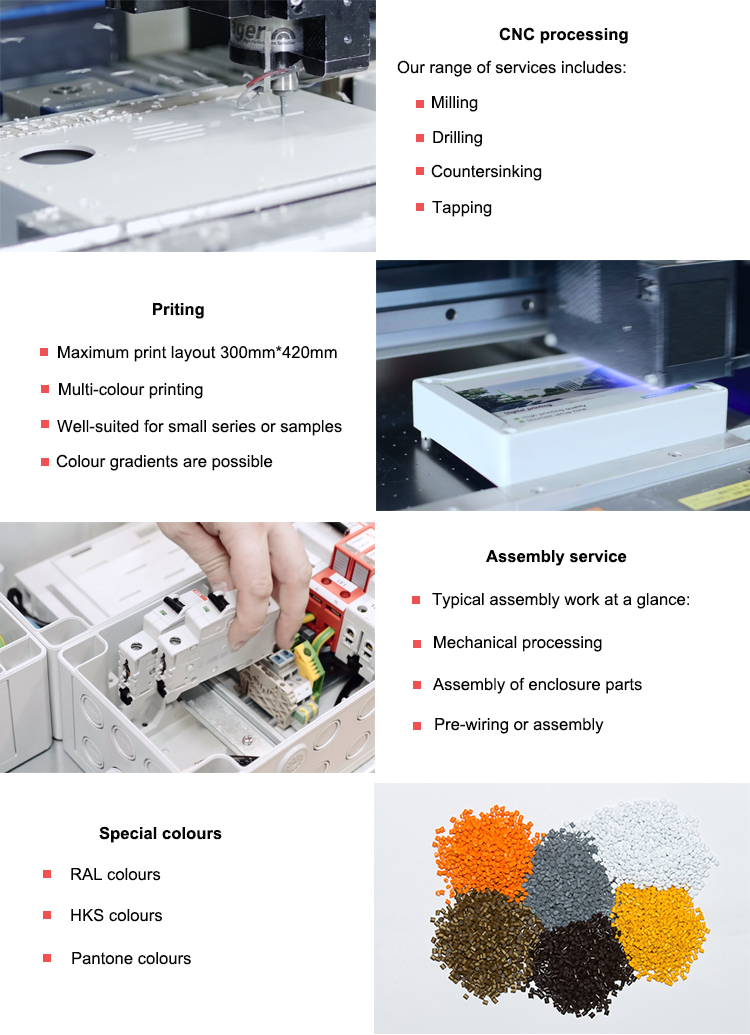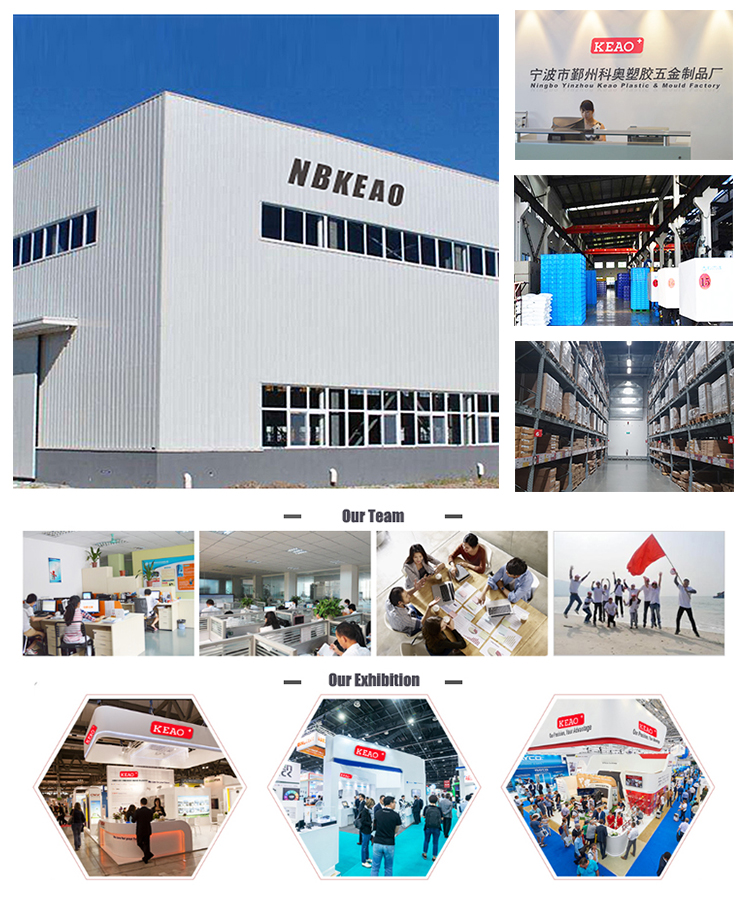 2-Gang White Plastic New Work/Old Work Standard Rectangular Wall Electrical Box
EASE OF ACCESS: manages excess cables via in-wall storage and provides convenient access to back of TV as needed.

MANAGE ALL YOUR CABLES: Cable access strap easily handles the many cables necessary to support your TV.

SIMPLE INSTALLATION: Designed to be easy to install with our retrofit box 15A 125V decorator receptacle that comes included.

CLEAN, MODERN LOOK: Hide your cables away and keep your entertainment clutterfree when you put your cables behind the wall.

ON-Q SOLUTION: Supports easy extension of electrical wiring with our entire recessed connection kit family.

connector type: Power Plug
Ningbo wybox ist auf die Herstellung von Kunststoffgehäusen spezialisiert. Wir stellen seit vielen Jahren hochwertige Kunststoffgehäuse mit persönlichem Service her. Wir sind in der Lage, alle Ihre Standard- und kundenspezifischen Gehäuseanforderungen zu erfüllen. Derzeit sind über 2000 Gehäuse ab Lager erhältlich. Sie können für Computer, Elektronik, Test- und medizinische Geräte usw. verwendet werden. Bei Keao erhält der Kunde nicht nur Standard- oder kundenspezifische Gehäuse, sondern auch qualitativ hochwertigen Service und Kundensupport. Da wir der Hersteller sind, sind wir in der Lage, niedrigere Preise und eine schnellere, individuellere Reaktionszeit für alle Ihre Gehäuseanforderungen anzubieten. Ob Sie ein Standardgehäuse oder eine zeitgemäße Lösung für eine Verpackungsherausforderung benötigen, wir sind die richtige Wahl. Wir haben uns einen Ruf für Zuverlässigkeit, Flexibilität und Qualität aufgebaut. Unser Erfolg ist das Ergebnis unserer Fähigkeit, mit jedem Kunden eine langfristige Partnerschaft aufzubauen und einen außergewöhnlichen, persönlichen Service zu bieten, um den Erfolg des Endprodukts auf seinem Markt sicherzustellen.
Name der Firma: wybox inc.
Produkt / Dienstleistung: wasserdichtes Gehäuse , Kunststoffgehäuse , Anschlussdosen , Schaltschränke , Elektronikgehäuse , Außengehege
Jahr Errichtet: 2005
Absatzmenge des Jahres (in Mio. US $): US$1 Million - US$2.5 Million
Exportanteil: 61% - 70%
Ansprechpartner: Mr. cnnbkeao
Telefonnummer: +86-574-88293409